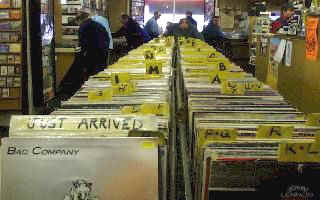 It has been far too long since I last visited Cob Records but I just googled it and it would appear that they are still very much there http://www.cobrecords.com/
In the absence of a first hand trousers down drop and cough style examination I cannot really review it in the present tense, although I looked at their on-line catalogue and they do have a copy of Yoko Ono's 'Fly' for twenty quid which is a steal (as long as it has the poster - with or without post card, fluxus eye thing) so I feel that it is safe to assume that at least some of the magic that made Cob (First opened in 1967) so incredibly special is still there.
I was on holiday in Wales with my family and my mate Nathan, for some reason we had been dropped in the middle of the coastal town of Porthmadog. Whilst i can say nothing against the town, it has a sea view a few totally killer pubs and at the time even sported a Woolworths, it's not the kind of place you would expect to find a record shop, let alone a solid used record shop. If I recall we were between pubs number two and three having opted for a midday drinking session in lieu of there being anything else to do (we had considered shoplifting) when we bumped into my dad.
'I thought you'd be in the record shop...'


Initially I thought he was joking and the directions he gave to the far end of town, over the bridge, to what looked liked the middle of the countryside just seemed to add to the improbability of it all but sure enough after a brief walk, there it was. The bottom half of a semi detached house in what looked like it used to be a corner shop 'Cob Records'. There was something massively surreal about the entire episode, there we were in ramblers paradise, a corner of the world you would only need go to if you were a Prisoner fanatic (it was recorded there) or a fan of regional steam rail (aparently they have a narrow gague track that goes all the way to Blaenau Ffestiniog... no really) and there I was standing in somekind of mastubatory dreamscape, a fusty record shop stacked to the ceiling with used records (and cassettes and cds).


I imagine the ash-trays have gone by now, at the time, what would have been around 1995 they were scattered around the room so you could have a crafty snout as you browsed - civil liberties asided it's no bad thing. Nobody likes a record that smells of smoke... or cat pee for that matter. My copy of 'Jailbreak' by Thin Lizzy smelled so badly of cat piss that I had to throw it out, but not until I had confirmed that it was not in fact an ultra-rare and unknown scratch and sniff 'cat piss' sleeve.


Anyway friendly and well priced, given it has been open for over 40 years I can only imagine the calibre of records to have passed through this door. I came away having spent the very modest sum of about twenty five quid on I have no idea what and left happy and enlightened. I remember thinking 'maybe every small town in Wales is like this with it's own awesome record shop.' Sadly it is not.


Unrelated I would love to know why my font changed from Arial to Times New Roman half way through writing this...